For the best utilization of the space
Cabinet-integrated range

Choose a cupboard-integrated hood for the best use of space
Today, virtually all modern Danish kitchens are equipped with efficient hoods or hoods, which ensure that, for example, steam and frying sauce are sucked out of the home before it can settle on walls, clothes and furniture. With a good extractor hood, you can protect yourself against grease and dirt on walls and other surfaces in your kitchen, just as you avoid having to constantly ventilate while cooking.
In the past, you had to put up with hoods that, firstly, made quite a lot of noise, and secondly, took up an incredible amount of space above the stove. However, those times are over – and today you can easily find both quiet and discreet hoods that do not get in your way while you cook.
You can also choose between several different hood models, each of which is suitable for different kitchens. If you have a cooker hood, you can, for example, choose a free-hanging or table-integrated extractor hood. And for the cooker close to the wall, you can advantageously consider either a ceiling-integrated or a cabinet-integrated extractor hood.

What is a cupboard-integrated hood?
A cabinet-integrated hood is a hood that can be built into the cabinet above your stove. In many Danish kitchens, the cabinet for, for example, spices or cookware is placed above the stove in order to make optimal use of the scarce space in the kitchen.
It may well be difficult to find space for a wall-mounted or ceiling-mounted extractor hood model if the space above the hob is taken up by an upper cabinet. Therefore, it is a great advantage that you have the option of choosing a cabinet-integrated extractor hood, which without taking up a lot of space in the cabinet, can equip your kitchen with efficient extraction of food.
Cabinet-integrated hoods from Thermex – a safe choice
For many decades, Thermex has supplied kitchens in Danish households with top efficient extractor hoods in the best quality standards. In Thermex's large and well-stocked product catalog, you will always be able to find at least one hood that matches your wishes and preferences.
Thermex can offer hoods that suit kitchens of all sizes and designs. Thus, at Thermex you will find free-hanging as well as wall-mounted and integrated hood models. And if you are looking for a hood that can be built into the cupboard above the stove, Thermex can of course also help.
Hoods from Thermex are available in two different product catalogues, namely the Yellowline and Blueline series. Products from Yellowline can be ordered online and in physical stores, where Blueline products are exclusively sold physically.

SUPER SILENT – beautiful and quiet
In Thermex's Yellowline series, we find SUPER SILENT cupboard-integrated extractor hoods. SUPER SILENT looks, is particularly notable for its low sound level, which in no way reveals the strong and efficient motor in the discreet hood.
With the SUPER SILENT hood, you get good value for money in the form of a hood that does not make noise and that can easily be integrated into the upper cupboard above your stove. You can be sure that a SUPER SILENT built-in extractor hood can keep the kitchen – and the rest of the home – free of frying pans and bad smells from cooking.
SUPER SILENT boasts three suction speeds, easy operation from the intuitive front panel, and the possibility of balanced air exchange using the so-called Trigger Link Module. The latter is Thermex's patented solution, which tells your ventilation system to blow more fresh air into the house. In this way, a good balance is maintained in relation to the extraction.
SUPER SILENT is available in several models with or without remote control, app control or voice activation. And you choose whether your SUPER SILENT extractor hood should be delivered with a connection for extraction or a built-in filter for air recirculation.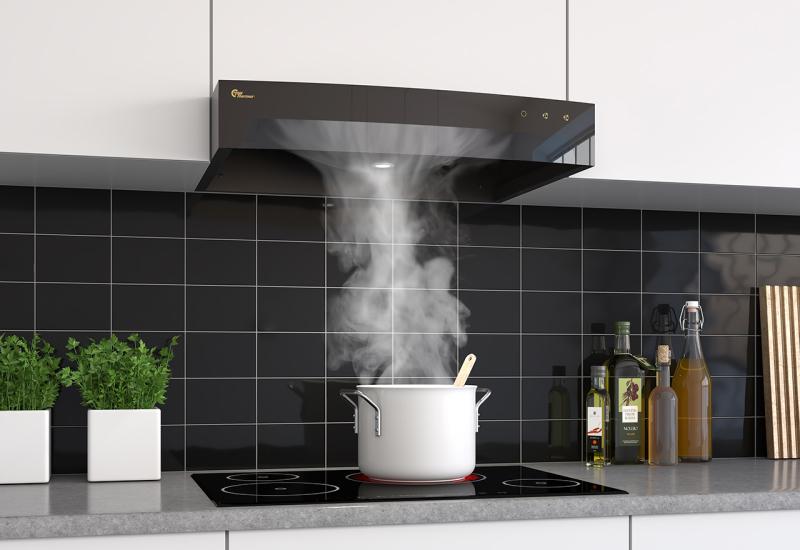 AIRGRIP – beautiful and futuristic
If your new cabinet's built-in extractor fan would like to be a little different, with AIRGRIP from Thermex's Yellowline series, you get a quite innovative model in a completely unique design. With AIRGRIP, you get a built-in extractor hood in the cabinet which can be part of your kitchen's decor in the most beautiful way.
In addition to the refined aesthetics, AIRGRIP can offer plenty of suction power, a low power consumption, and a consequent high energy efficiency. AIRGRIP is a really good purchase for the climate- and economy-conscious consumer who at the same time appreciates exciting and unconventional design.
SLIM S4 PLUS – slim and efficient
Among the more streamlined hoods for installation in upper cabinets we find the SLIM S4 PLUS, which can also be found in Thermex's Yellowline product range. SLIM S4 PLUS can offer both a beautiful and refined design as well as a formidable suction power and the option of connecting to a pull-out.
SLIM S4 PLUS is available in white and stainless steel. You can therefore choose which of the beautiful, slim cabinet-integrated extractor hood models best suits your particular kitchen.

METZ – simple and elegant
If you are in the market for a cabinet-integrated extractor hood in a minimalist design, which fits every kitchen niche with an overhead cabinet, you might want to take a look at the METZ models in Thermex's blueline series. The METZ extractor hood is available in the MICRO and MINI variants - both designed in a beautiful and timeless design, and with full extractor functionality.
METZ's slim design makes it particularly suitable for installation in cupboards above the hob. The effective edge suction easily removes food - and the energy-saving LED lighting provides the best working conditions for the busy chef.
ALSACE – strong and solid
Likewise, in the Blueline series we find the ALSACE model, which can be said to be the range's answer to a Bentley. ALSACE is equipped with a super strong motor, which gives the hood its fantastic suction power. All hidden behind an exclusive and stylish design, which signals strength and quality.
ALSACE is available both with active filter for recirculation and with connection for extraction. All in all, a cabinet-integrated extractor hood that provides really good value for money.